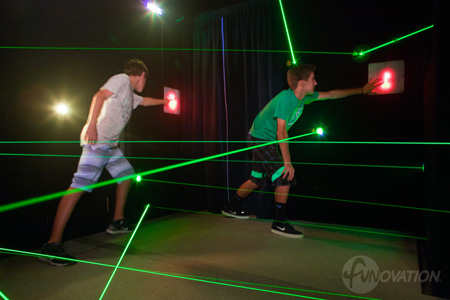 Laser tagging and laser maze are excellent team building activities for any organization or team. Laser maze can be played either as a single player or in co-operative mode, and Laser Tagging is a natural team game. Bumper cars are great no matter how you play them!
Hold your celebrations with us! This is a great way to bring your team together at the start of a season, or to have your last get-together at the end of that season. You always leave on a high note.
Take advantage of our ready-made parties. Everything you need for a great experience is included. All you need to bring are your guests!
When you come for your party, please bring your waiver for each person.
Please make special arrangements if your party is more than 30 people.

A $50.00 NON-REFUNDABLE DEPOSIT IS REQUIRED TO MAKE A RESERVATION.

Standard Package

2 Laser Tag games per player
2 Laser Maze games per player
100 Tickets for prizes for the guest of honor
Two FREE games at next visit for the guest of honor
1-hour exclusive use of a party room
Set up and clean up
Cups, plates, utensils napkins and a table cover
Drinks & 2 slices of pizza per player
Package is non-private. Please contact (916) 382-9905 or saclasertag@gmail.com for booking a PRIVATE party

Pricing:

10 Players $345
15 Players $470
20 Players $610

$29 per additional guest
$5/person for additional Laser Tag Games

Premium Package

2 Laser Tag games per player
1 Laser Maze per player
1 Bumper Car ride per player
200 Tickets for prizes for the guest of honor
100 Tickets for prizes for party players
Two FREE games at next visit for the guest of honor
1-hour exclusive use of a party room
Set up and clean up
Cups, plates, utensils napkins and a table cover
Drinks & 2 slices of pizza per player
Package is non-private. Please contact (916) 382-9905 or saclasertag@gmail.com for booking a PRIVATE party

Pricing:

10 Players $365
15 Players $495
20 Players $665

$29 per additional guest
$5/person for additional Laser Tag, Lazer Maze, or Bumper Car

Jungle Park Package
(Only for kids 2 – 12 years old)

45 min. in the Jungle Play Structure
1 Game Laser Tag or 2 Games of Laser Maze per player
1 Bumper Car Ride per player
100 Tickets for prizes for the guest of honor
Two FREE games at the next visit for the guest of honor
1-hour exclusive use of a party room
Set up and clean up
Cups, plates, utensils napkins and a table cover
Drinks & 2 slices of pizza per player
Package is non-private. Please contact (916) 382-9905 or saclasertag@gmail.com for booking a PRIVATE party

Pricing:

10 Players $355
15 Players $460
20 Players $600

$29 per additional guest
$5/person for additional Laser Tag Games

Jungle Play Package  (Non-private*)
(Only for kids 2 – 12 years old)

90 min. in the Jungle Play Structure
30 min. exclusive use of a party room
Set up and clean up
Cups, plates, utensils napkins and a table cover
Drinks & 2 slices of pizza per player

Pricing:

10 Players $360
15 Players $480
20 Players $649

$29 per additional guest

Party Extras
Large Pizza, 1 topping
$22
Large Pizza, 2 or more toppings
$24
Quarters may be purchased from us or from the change machine

* Please contact us at: (916) 382-9905 or email saclasertag@gmail.com for booking a PRIVATE party