Open Now — Fun in the Jungle!
Our newest attraction for active kids –a jungle playground with lots to explore ~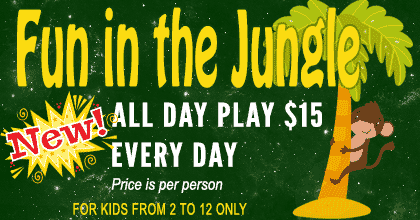 For kids from 2 to 12 ONLY
$15 per person ALL DAY
Climbing nets, platforms, wall and more!
Swings, Games, Slides, Tunnels, Obstacles!
Trampoline!
Ball pit!
Full-Body Music!
Play stores!
Maybe a secret spot or two?
And even a place to rest …